Sunday School (Preschool – 6th Grade)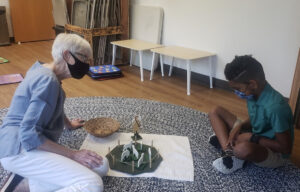 Sunday School occurs during Saint Martin's Sunday 10:30am mass. Please join us in the large conference room upstairs at 10:15am. 
Saint Martin's uses Catechesis of the Good Shepherd (CGS) for our children's education and has 3 levels.  CGS is an approach to religious education that is rooted in the Bible, the liturgy of the Church and the education principles of Maria Montessori.  It really focuses on the joy in the relationship with God and the young child.
Level 1 is for children ages 2 1/2 through kindergarten. The guiding parable for these youngest children is The Good Shepherd (John 10: 1-5).
Level 2 is for children in 1st through 3rd grades and also the Solemn Communion class (those of any age). Now that the children are older, they are introduced to the moral teachings of Jesus, especially the parable of The True Vine (John 15: 1-11).
Level 3 is for children in 4th through 6th grades. With a solid understanding of Jesus' life and teachings, we spend these years focusing on what we can do to answer God's invitation.
Please reach out to Heather Agosto if you have any questions.