We are planning to have in-person Sunday School at the 10:30am Sunday Service.  Kick-Off Sunday, September 12th, would be the first day of Sunday School.  

We will follow Covid guidelines from the Diocese, which right now supports in-person education and currently requires masks and 3ft between children.  As you all know, the situation with the pandemic is always changing and Diocesan guidance could be updated.  We will keep you posted.    If you have any questions, please contact Christine at auntie_weenie@hotmail.com. 
St. Martin's uses Catechesis of the Good Shepherd in our Church School. The Catechesis of the Good Shepherd (CGS) is an approach to the religious education of children. It is rooted in the Bible, the liturgy of the Church and the educational principles of Maria Montessori. Its purpose is to nourish the joy and nurture the existing relationship between God and the very young child. The Catechesis of the Good Shepherd has been evolving and improving since 1954 and is being used around the world and in many Christian traditions.  St. Martin's began using CGS in 2004 with children ages 2 1/2 to 5.  We have three classrooms, or atriums, in place for children ages 2 1/2 through 6th grade.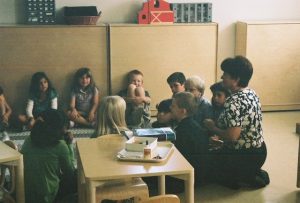 Each atrium serves a specific age group:
Level 1 is for children ages 2 1/2 through kindergarten. The guiding parable for these youngest children is The Good Shepherd (John 10: 1-5).
Level 2 is for children in 1st through 3rd grades and also the Solemn Communion class (those of any age). Now that the children are older, they are introduced to the moral teachings of Jesus, especially the parable of The True Vine (John 15: 1-11).
Level 3 is for children in 4th through 6th grades. With a solid understanding of Jesus' life and teachings, we spend these years focusing on what we can do to answer God's invitation.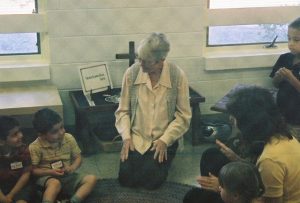 Sunday School starts at 10:15 AM on each Sunday beginning the Sunday after Labor Day in September and ends on Father's Day in June. Registration is not required.  Children may join an atrium at any time of the year.