Following the CDC's new mask guidance, the diocese is requiring everyone to wear a face mask both indoors and outdoors, regardless of vaccination status. Facemasks will be available in the narthex as you enter the church if you need one. Congregational singing is still allowed by masked singers. The diocese is also discouraging fellowship events where masks have to be removed in order to eat. For the time being, coffee hour will be suspended.
The left side of our church will be open seating and there will be no social distancing. No sign ups are needed – so please join us! Only those who wish or need to sit socially distanced are asked to sign up for a spot. You will be seated on the right side of our church or in the choir loft (no choir). Sign up for a socially distanced spot.
If you are not comfortable attending in-person, please join us for our virtual coffee hour at 10:15 am each Sunday followed by our 10:30 abbreviated Eucharist on Zoom and Facebook Live.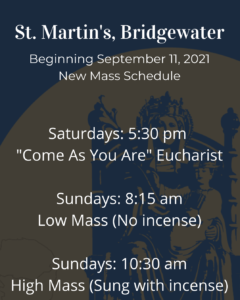 Sunday Service Details effective September 11, 2021
8:15 Holy Eucharist – Low Mass 
9:15 Coffee Hour (TBD)
9:30 Adult Forum
10:15 Church School
10:30 Sung Eucharist – High Mass
11:30 Youth Groups
11:45 Coffee Hour (TBD)