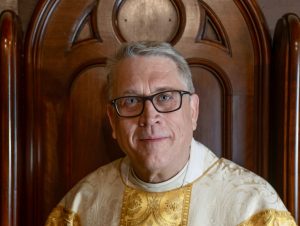 The Rev. Dr. Timothy J. Mulder – Interim Rector
Fr. Tim has served parishes in Bedminster, Wayne, Bernardsville, Gladstone and Short Hills, New Jersey and Annapolis, Maryland. He was professor of worship and preaching at New Brunswick Theological Seminary and the General Theological Seminary, and currently teaches preaching in the diaconal program of the Diocese of Newark. He was manager of the Warwick (NY) Conference Center and executive director of the Episcopal Preaching Foundation. He is an associate of the Community of St. John Baptist in Mendham where he has been the Friday morning Celebrant with few interruptions for the last twenty years.
Tim and his wife, Linda, live in Gladstone where they enjoy playing golf, cross-country skiing and cooking for friends. They have six adult children.
Fr. Tim can be reached at rectorstmartinsnj@gmail.com.