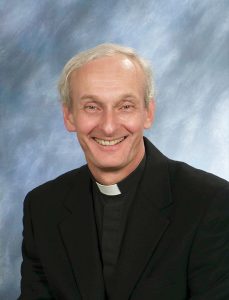 We are currently searching for a new rector, as Father Bruce Montgomery, our beloved rector for 37 years, retired on June 16, 2019. He served as the senior ordained minister of the Church.
Father Bruce was born in Dearborn, Michigan. He is the younger of two children with one older brother. He graduated from Dearborn High School and Albion College in nearby Albion, Michigan where he majored in Economics and Business Administration.
Father Bruce attended Princeton Theological Seminary as a Presbyterian candidate for ordained ministry. During an intern year, he was confirmed in the Episcopal Church and started the process toward ordination to priesthood in the Episcopal Church in the Diocese of Long Island. He then attended General Theological Seminary in New York City. Upon graduation he became the Assistant Priest  at St. Anne's Episcopal Church in Abington, Pennsylvania. Father Bruce became the vicar of St. Martin's in 1982 and then the first Rector of St. Martin's in 1983.
Bruce met his wife Lani Lynn Montgomery at a confirmation class at St. Mark's in East Islip, Long Island, NY. They were married on December 18, 1976  at St. Mark's. Lani graduated from Dowling College and has a Master of Arts in Painting and Studio Art. She is a retired elementary school art teacher.
The Montgomery's have three grown children: Colin, an insurance broker; Kirstin, a 3rd grade teacher in Baltimore; and Kerrin, a financial analyst.