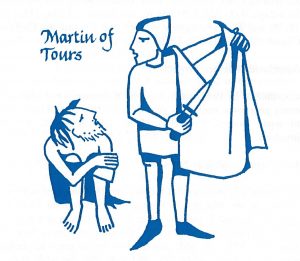 St. Martin of Tours, a disciple of Jesus, was a diligent missionary and a staunch defender of the poor and helpless. Following Jesus' example and inspired by St. Martin, we as individuals and as a parish, reach out by sharing with those in need.  Jesus said, "As you did it to one of the least of these, you did it to me."
Outreach is a compilation of individual efforts to help people in need: in the community, within our parish, or wherever a need is recognized in the world. The Outreach team coordinates hands-on involvement and the distribution of parish outreach funds. The projects that we are currently involved with are:
Somerset County Food Bank.  St. Martin's serves at the food bank handing out food on Saturdays for the months of May and August.
Interfaith Hospitality Network.  St. Martin's is in charge of helping out the homeless who are staying at the Pluckemin Presbyterian Church 3 evenings a year.  One person or a team prepares dinner for 2-3 families and serves the  meal.  Another person or team is present with the families after dinner, and then a third team sleeps overnight.  This is a very rewarding hand on ministry.
Christmas Gift Distribution to children of inmates at the Somerset County Jail.
Other ways to help include:
Making ziti for S.H.I.P. (Samaritan Homeless Interim Program)
Staffing the Mobile Soup Kitchen.  A driver and two helpers are needed to run SHIP's Mobile Soup Kitchen at the United Reformed Church in Somerville on the third Wednesday of each month.
Donation of Toiletry items for indigent inmates at the Jail
Donation of Peanut Butter and Tuna for the County Food Bank
Donation of clothing in the fall and spring to Family Resource Associates
Friends 4 Kenya (helping to keep young women in school)
Christmas Angel Tree Gift Donations for needy children in the Somerville area
Sweatshirt donations led by the youth of St. Martin's and donated to teens of families using the Food Bank
Episcopal Relief and Development Offerings to those in crisis around the world.
Additionally, the outreach team identifies specific groups to support with financial contributions. These include: Somerset County Food Bank, Jail Chaplaincy of Somerset County, S.H.I.P., Chaplaincy to the Elderly,  Trinity Cathedral (the cathedral church of our Diocese of New Jersey), Appalachia Service Project, an Orphanage in India for children affected by 2004 tsunami, and our fair share of the Diocesan Mission that supports the diocese and Episcopal missions in the world at large.
We also host local substance abuse support groups within our building on a daily basis.
Feel free to take a look at our Outreach booklet which describes our ministries in more detail.