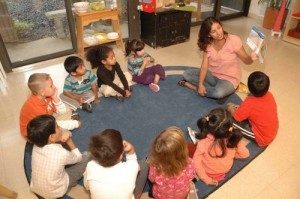 When thinking about the perfect setting designed to cultivate your child's mind and spirit during their greatest learning period, what do you envision?
Beautiful grounds? Well-trained and caring teachers? Enriching curriculum? If these are the images that spring to mind, then we invite you to take a peek at St. Martin's School!
Nestled on five acres surrounded by sunlit meadows and green trees, many families appreciate the natural surroundings and peaceful learning environment. We feel that your child will be inspired to learn. After all, the love of learning is a gift that will serve them well for the rest of their lives.
Providing the prepared environment since 2006 that enables your child to actualize their greatest potential, St. Martin's School is Guiding Mind and Spirit.
Guided by our well-trained and caring staff, our Montessori enriched curriculum is dedicated to the total development of the child: Intellectual, Emotional, Physical, Social, Cultural and Spiritual. Our teachers make the difference, one child at a time.
Still want to know what makes St. Martin's School so special?
We invite you to experience the wonderful Montessori Method yourself! If you have any questions or would like to schedule a tour, please call us at (908) 526-2722.
We look forward to welcoming you to St. Martin's Montessori School!