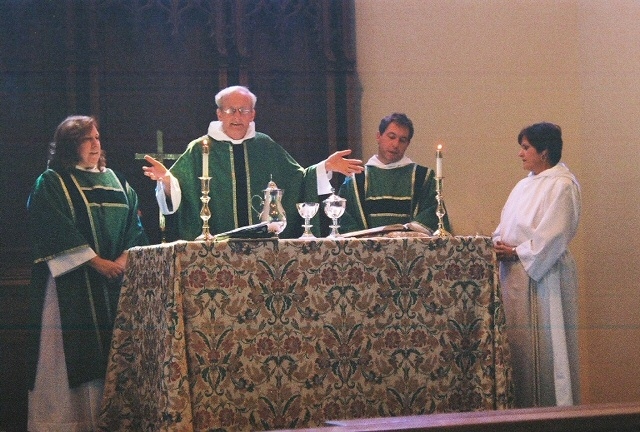 Sunday, the Lord's Day, the first day of the week, is the Day of Resurrection when Christians gather for worship. The principle weekly service in the Episcopal Church is the Holy Eucharist, also known as: The Lord's Supper, Holy Communion or Mass. In most Episcopal churches, worship is accompanied by the singing of hymns, and in some churches, most of the service is sung.  St. Martin's has two services on Sundays with two different styles of worship. All worship in the Episcopal church is based on the Book of Common Prayer, which makes services familiar, no matter where you worship.
For the first-time visitor, liturgy may be exhilarating… or confusing. Services may involve standing, sitting, kneeling, sung or spoken responses, and other participatory elements that may provide a challenge for the first-time visitor. However, liturgical worship can be compared with a dance: once you learn the steps, you come to appreciate the rhythm, and it becomes satisfying to dance, again and again, as the music changes.
In spite of the diversity of worship styles in the Episcopal Church, Holy Eucharist always has the same components and the same shape.
Liturgy of the Word – the focus is on the bible readings
Liturgy of the Table – the focus is on the Eucharist or Communion
All are welcome to receive Communion, the presence of Christ in bread and wine.
8:15 AM Service                                        10:30 AM Service
Rite I/II Eucharist                                     Rite II Eucharist
Organ Prelude and Postlude             Hymns, Mass setting is sung
One hymn                                                     Anthem is sung by Adult Choir
No incense                                                   Sunday School, Adult & Youth Classes meet
A "Quiet" Service                                      Incense is used