St. Martin's spiritual learning covers Adult Education, Children's Education and Youth Groups.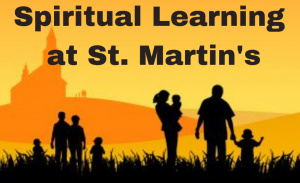 Adult Education takes places in several ways – Adult Forum on Sundays, Lenten and Advent Studies, and discussion with other congregations in nearby churches.
Children's Education at St. Martin's uses Catechesis of the Good Shepherd (CGS).  CGS is an approach to religious education that is rooted in the Bible, the liturgy of the Church and the education principles of Maria Montessori.  It really focuses on the joy in the relationship with God and the young child. Children's Ed covers ages 3 through 6th grades.
Youth Groups
follow the Journey to Adulthood program with a progression through 3 stages:  Rite 13, Journey to Adulthood (J2A) and Young Adults in Church (YAC).   Journey to Adulthood is a complete youth ministry program of spiritual formation for 7th-12th grades. It encourages relational ministry and uses Bible study, prayer, rites of passage, outreach ministries and both serious and playful activities.  Our goal is to provide our youth with a positive Christian Education experience that will help them build their own church community.