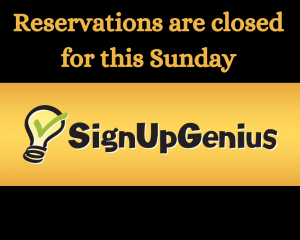 We are so pleased to be able to resume worship in our beautiful church. In order to do so, we are asking parishioners who would like to attend in person to:
read and sign our Covenant for Re-Gathering in Worship (needs to be done only once per family) before you sign up to attend in person the first time
sign up for an available slot below (needs to be done each week you wish to attend). Because of social distancing guidelines, we only have 8 pews available at the current time for in-person attendance. Each pew can accommodate 4 related family members. If you have 5-8 related family members, please sign up for 2 slots. We can also accommodate 2 single attendees, socially distanced, in one pew. We are using the free version of SignUpGenius as our reservation system.
For contact tracing purposes, we ask you to include, in the sign up, your name, family members who are attending with you, address, phone number and email address.
If you sign up for a slot and later realize you can't make it, you can cancel your slot by clicking on the "edit my sign-up" box in the confirmation email you got from SignUpGenius.
Reservations for each week will open on Monday night and close on Thursday at midnight.